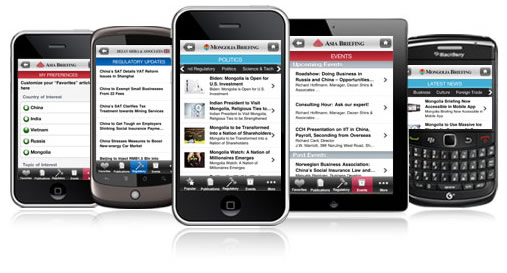 Mongolia Briefing is now available as part of the new Asia Briefing Mobile Application that provides the latest business investment news, commentary and magazines about foreign investment law, tax planning, due diligence, and compliance issues in China, India, Vietnam, Russia, Mongolia and Emerging Asia. Updated every hour, we provide real time news and opinion on matters affecting investment into these countries and regions from the top legal and tax professionals at Dezan Shira & Associates – Asia's largest independent business advisory practice.
Key features:
Free access to our China Briefing, India Briefing, Vietnam Briefing, Russia Briefing, Mongolia Briefing and Emerging Asia Portals.
Browse the latest publications from our business magazines, technical and regional guides on doing business in Asia.
Receive immediate notice of forthcoming Asia business events, investment law and tax seminars.
Get the latest regulatory updates on your emerging region.
Read foreign language editions in German, French, Spanish, and Italian.